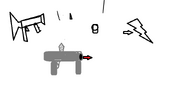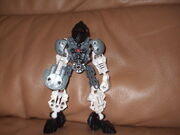 Jason ice is a veteran hero, he is an old model.
History
Jason Ice was years ago created as one of the first heroes. He completed more missions then even Stormer. Ice is one of the oldest heroes.
His Death...
With a mission on Cherivac(Planet),Juravac steal his core in a battle.Jason lived after it.Thn he was rising inthe jungle.Later the Murder Team found him death.But later at the Hero Factory they maked a new hero:Jason Slice.