Tim Spike is one of DeltaStriker's older articles and has been kept for archival and nostalgic purposes.

As such, some, most, or all information on this page no longer applies to his current works.
This article was written by DeltaStriker. Please do not add to this fiction without the writer's permission.
Timothy Spike
Character
Affiliation

Hero Factory, Delta Team

Tools

Nuclear Particle Canon

Status

Alive

Location

Planet 107
"Listen, I'M the one with the gun. So you do what I say. Got that?"
―Tim Spike
Tim Spike is a Hero in Delta Team, and Tom Spike's brother.
History
Rise Of Overlord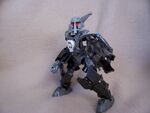 Tim traveled to
Planetoid 465
with the rest of Delta Team in search of
Blitzer
. When they arrived, they were attacked by Blitzer. Their shuttle crashed, and they set out on foot.
After a while, Tom Spike found a tunnel, and the Team entered. Tim complained the whole way. Once they were through, Winston suggested they enter Blitzer's hideout through the sewer. Tim was opposed to this idea and only came because he had no better ideas.
Equipment
Spike wields a Nuclear Particle Canon. His headgear is identical to Dunkan Bulk 1.0's. He wears Delta Team's signature Vacuum Resistant Armor.
Personality
Tim is an out-going type, and will always try to brighten the mood. However, he does have his limits.
Appearances