Waspix contains canon Hero Factory information.

---

This article contains canon information but has fanon information added to it. The canon version of this page can be viewed

here

.
Waspix - nicknamed Wasp - is one of the Hero Factory 3.0 villains on the Savage Planet.
Waspix
2231.jpg
Creature
Affiliation

Witch Doctor (formely)

Tools

Clutching Claw Blades

Status

Alive

Location
History
Though their creation is unknown, they fleed from the
Dark Continent
(not on Savage Planet) 250 years BVN. Since than, their numbers have floruished on the Savage Planet ... and they have grown highly intelligent. They are known to be very dangerous, and can inject needle-like stingers from their mouths into their enemies, realeasing a deadly toxin. They are also known to be able to pounce and fly off with their victims, dead or alive. They also enjoy aerial battle.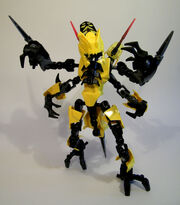 trivia
these use acidic acids only in Millennial shadow.
Fanon